About C.A Newcomb & Sons
Clyde Allen Newcomb founded the Company sometime around 1913 in Newburgh, Maine. He started out as a buyer and shipper of hay, live-stock & all kinds of farm produce. Clyde moved to Carmel in 1922. Shortly thereafter, on the suggestion from a friend, he expanded into fence and cable guardrail. Clyde would purchase cedar posts from area lumbermen which were hand shaved and treated with creosote. Crews would travel around the state digging holes along the roadside installing the posts with a steel cable, this served as guardrail in the State of Maine for many years. Along with the cable rail, they installed all types of fence, granite right of way markers and laying sod.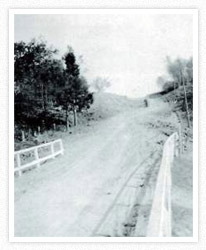 A few years later Clyde's sons Allen and Maylen joined the family business. Together they completed many projects throughout Maine, New Hampshire and Vermont. During the 1950's the Company purchased their first post-hole digger, this made the work more efficient and productive. C.A. Newcomb & Sons completed many miles of guardrail and fencing on interstate 95 working with General
Contractors such as; Bridge Construction & H.E. Sargent.
Upon Clyde's death in 1958 his sons, Allen and Maylen took over the family business with their sons, Peter and James. The business prospered and work carried on until Maylens passing in 1979. Allen and Peter carried on for a few more years. In the early 1980's Allen transferred the business to Peter and his sister Nancy. A few years later the partnership dissolved and the name retired. Then Peter started up what was known as P.B. Newcomb Construction installing guardrail picking up where C.A. Newcomb & Sons left off. In the mid 1990's Clyde's great grandson Billy Cichocki joined Peter in his endeavors, returning the company back into the commercial fence market.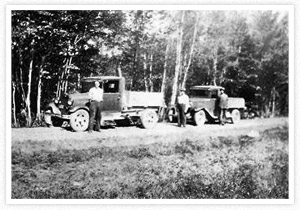 At the end of the decade and due to illness, Peter decided to hang up his hat after many long years working on Maine roadways. P.B. Newcomb Construction was retired.
In 1999, not wanting to see the Newcomb name retired and in need of a job, Billy applied and restored the C.A. Newcomb & Sons name that it is today. The Company serves and provides guardrail and fence in Maine and Northern New Hampshire. However, you may find them in Carmel still hauling the occasional load of hay.